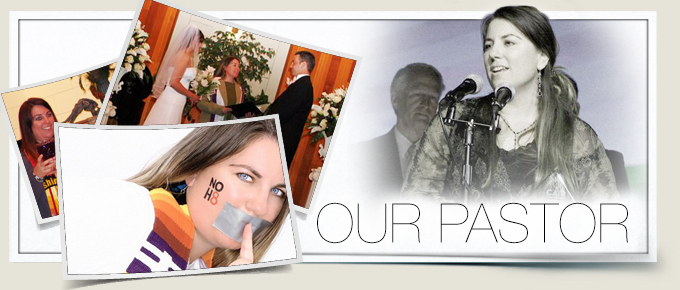 Rev. Dr. Sarah Halverson
, senior pastor at Fairview Community Church:  A native of Orange County, Pastor Sarah has a deep love of this community and feels called to serve with Fairview as a Beacon of Light in Orange County! 
Her ministry at Fairview and within the larger community is a call to justice.  She is a board member of Progressive Christians Uniting, the Southern California Affiliate of the American Civil Liberties Union (ACLU) and the chair of the Orange County board of Clergy and Laity United for Economic Justice (CLUE).  
Education
She received a bachelor's degree in religion and English Literature from Chapman University, and began work towards a PhD in the New Testament. After finishing coursework, Sarah felt compelled to enter the ministry, and so enrolled at Claremont School of Theology where she earned her masters of divinity. She later completed a doctorate degree in preaching at Chicago Theological Seminary.  Sarah's academic studies have led her to Israel, where her interest in archaeology found her excavating at the ancient sites of Sepphoris and Cana.
Her love of studying the early life of Jesus and the social world in which he formulated his thoughts, ideas, and ministry, informs her approach to ministry. Highly influenced by Jesus' call to social action in pursuit of justice and peace and the Hebrew prophets Isaiah and Micah, Rev. Halverson finds herself drawn to justice issues, and compelled to fight for the rights of the oppressed.
Awards and Recognition
She has been honored by the Orange County Labor Federation with the Bridge Award because of her ministry with working families, the Los Angeles chapter of Council of American Islamic Relations (CAIR) with the Courage Award because of her outspoken support of and work with Muslims, and in May of 2012 was honored to receive the Community Leader Award by the Orange County Human Relations Committee for her active work within the larger Orange County community which included her work with the LGBT community, low wage workers, immigrants, and interfaith work. 
She leads our congregation to continue to strive to be God's light for justice and peace speaking out whenever injustice presents itself.  Her sermons can be heard here!
Most recently a local Orange County blogger proposed that 
Pastor Sarah give the benediction at the Inauguration for President Obama. 
Here's what he had to say

.