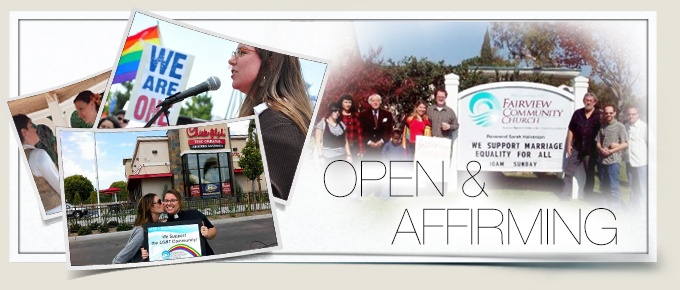 Fairview Community Church is an Open, Welcoming and Affirming church, embracing diversity in our congregation and community, and affirming the dignity and worth of every human being created in the image of God.  We continue to honor our founding principle that discrimination is incompatible with Christ's Gospel of unconditional love.  We believe God loves us all and calls us into community with our brothers and sisters of every race, language, age, gender, sexual orientation, physical or mental ability, economic or marital status, and faith background.  We affirm and celebrate all loving and committed relationships.  We acknowledge the history of the institutional church in condemning and excluding gay, lesbian, bisexual and transgender persons, and in condoning such discrimination by its silence.  We commit ourselves to work diligently to end such oppression and discrimination.  We welcome our gay, lesbian, bi-sexual and transgender sisters and brothers to join with us in hearing Jesus' call to share God's love in the full life, ministry and witness of our struggle for justice and peace.  We the members of Fairview Community Church pray our fellow congregations sharing denominational identity with the American Baptist Churches and United Church of Christ will work with us to invite all God's children into a community of love.  Following the example of Jesus, we hereby declare ourselves to be an Open, Welcoming and Affirming Church.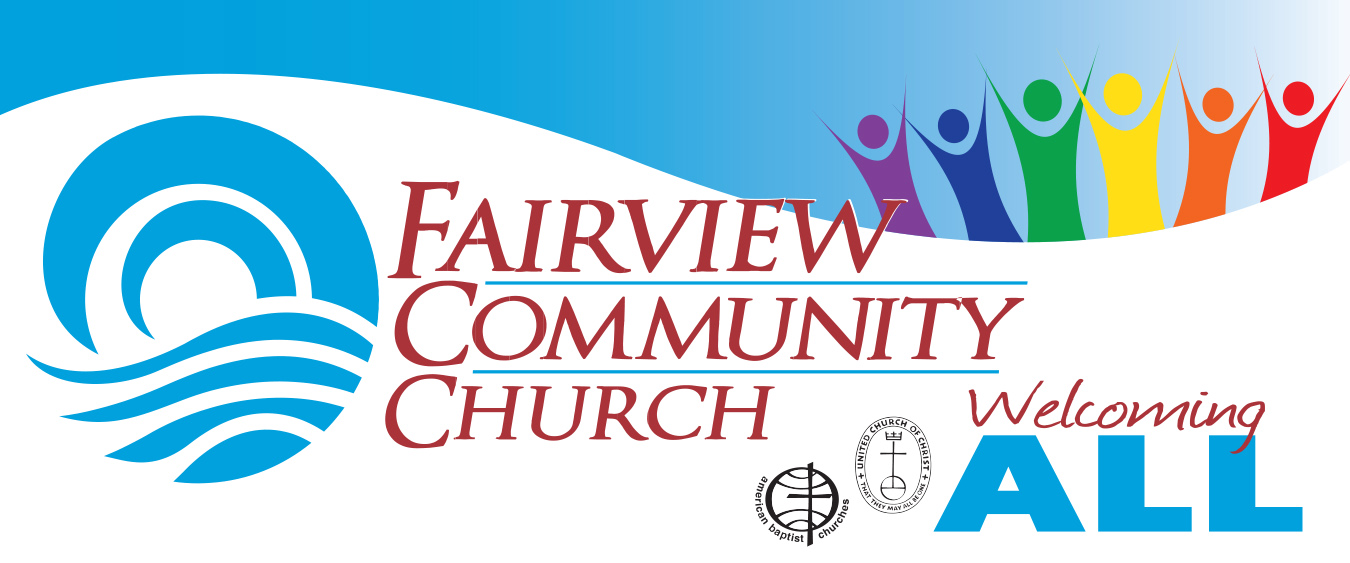 Fairview Community Church
Equal Marriage Resolution
WHEREAS, Holy Scripture reveals that everyone is created in God's image, and that God embraces all people as equally precious, and
WHEREAS, Fairview Community Church is an open, welcoming and affirming community of faith, that values all people as the family of God, and welcomes everyone into the full life and ministry of the Church, and
WHEREAS, Fairview Community Church currently celebrates and blesses the covenant relationships of couples, whether gay or straight, honoring the commitment of two persons to each other, but until now has not performed the state-recognized rite of marriage for same-sex couples, and
WHEREAS, on May 15, 2008, the California Supreme Court issued its decision, holding that marriage is a "basic civil right of personal autonomy and liberty … to which all persons are entitled without regard to their sexual orientation," and
WHEREAS, as a result of the Supreme Court's decision, on June 17, 2008, county offices throughout the State of California began to issue licenses that recognize the legality of same-sex marriages,
NOW THEREFORE BE IT RESOLVED that the Pastor and Board do declare that, beginning August 5, 2008, Fairview Community Church will happily welcome and treat all couples equally, who present themselves for the rite of marriage.