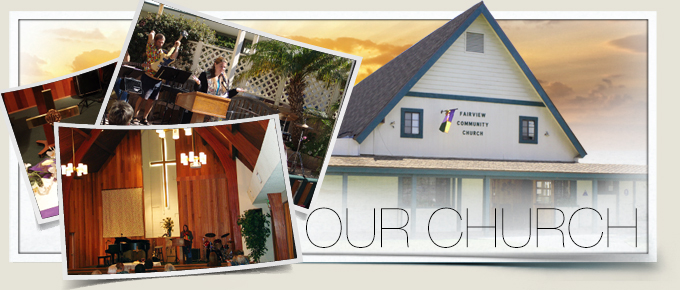 We are a progressive congregation of the American Baptist Churches USA and the United Church of Christ. We are an Open, Welcoming and Affirming Church for all people especially the LGBT community.  Welcome to our safe space!  May this be a sanctuary for ALL!
Fairview Community Church is an Open, Welcoming and Affirming church, embracing diversity in our congregation and community,
and affirming the dignity and worth of every human being created in the image of God.
We continue to honor our founding principle that discrimination is incompatible with Christ's Gospel of unconditional love.
We believe God loves us all and calls us into community with our brothers and sisters of every race, language, age, gender, sexual orientation, physical or mental ability, economic or marital status, and faith background.  We affirm and celebrate all loving and committed relationships.
We acknowledge the history of the institutional church in condemning and excluding gay, lesbian, bisexual and transgender persons, and in condoning such discrimination by its silence.
We commit ourselves to work diligently to end such oppression and discrimination.
We welcome our gay, lesbian, bi-sexual and transgender sisters and brothers to join with us in hearing Jesus' call to share God's love in the full life, ministry and witness of our struggle for justice and peace.
We the members of Fairview Community Church pray our fellow congregations sharing denominational identity with the American Baptist Churches and United Church of Christ will work with us to invite all God's children into a community of love.
Following the example of Jesus, we hereby declare ourselves to be an Open, Welcoming and Affirming Church.